Every Little Bit Counts
There's something that the fitness industry doesn't want you to know…
In fact, I believe that this is the biggest secret to attaining that perfectly fit body that you've wanted for so many years.
It's not that you aren't trying to workout and eat right, it's just that you haven't been able to find that one thing to take you all the way to success.
Now, finally, I'm going to share that one thing.
It's quite simple, and yet stands as the truest and most important fitness advice you'll ever receive…
The big secret is that…Your daily habits create your body.
What do I mean by daily habits? The things that you consistently do on a daily basis determine your body's shape, strength and stamina.
That's it.
Nothing else matters as much as those daily habits.
No fitness gadget, or outfit, or pills, or powders will get you results if your daily habits are working against you.
The problem is that most people have bursts of fitness motivation, when you eat clean and workout hard for a short time…but then the motivation wears off and you go back to your daily habits.
That familiar routine that gives you comfort and security.
Your only focus, when it comes to shaping up your body, should be to make and keep a handful of healthy, daily habits. When these healthy habits become your comfortable routine, then you've hit fitness gold.
This is great news for two reasons:
1. First, when you do something habitually it no longer requires a lot of brain power or motivation to get it done. It pretty much happens automatically. So once you've settled into your daily habits you'll easily maintain them.
2. Second, once your daily habits have been around long enough to transform your body, you get to give up the struggle of trying to lose weight. That quest, which has taken up so much of your time and mental energy, will be put to rest, leaving you time to go out and enjoy your life.
Once you've achieved that body of your dreams the fun really begins. Your life will take on a whole new dimension of energy, excitement, confidence and adventure.
So let's take a few moments to determine which healthy, daily habits you will begin to include in your daily life, and continue to prompt yourself to do these until it becomes automatic and comfortable.
While you have unique situations and abilities, here is a list of ideas of healthy daily habits to get you started…
Daily resistance training workout – same time each day.
Daily cardio bonus workout (walk, jog, bike etc) – same time each day.
Daily protein shake to replace breakfast or lunch.
Daily meal prepped portions of protein, carbs and veggies.
Daily water drinking – bring your water bottle with you.
Daily green drink.
Daily salad.
Daily bonus push-ups at home.
Go on, get working on your own personal list of daily fitness habits. Make these realistic actions that you could fit into your daily life, and watch as your body effortlessly transforms over the next several weeks.
Quick note for you overachievers: resist the urge to commit to difficult or extreme daily habits.
This isn't one of your fitness bursts that fizzle out shortly – these habits are meant for the long run. So instead of saying that you'll run 6 miles each day, only commit to 2 miles. Do those 2 miles every day for a few months and you'll see the value and truly life-changing powers of a daily habit.
Call or email me now and I'll help you with your personalized list of daily habits. Of course one of those habits will be to workout with me each day! Talk about a life changing habit :)
Grilled Shrimp Tacos
Do you have diabetes or high blood pressure?
Did you know that by dropping as little as 5 to 10 percent of your body weight these problems can be greatly alleviated?
Just think how great you will feel after losing excess weight and improving your health!
Z Physique Healthy Lifestyle Membership Options: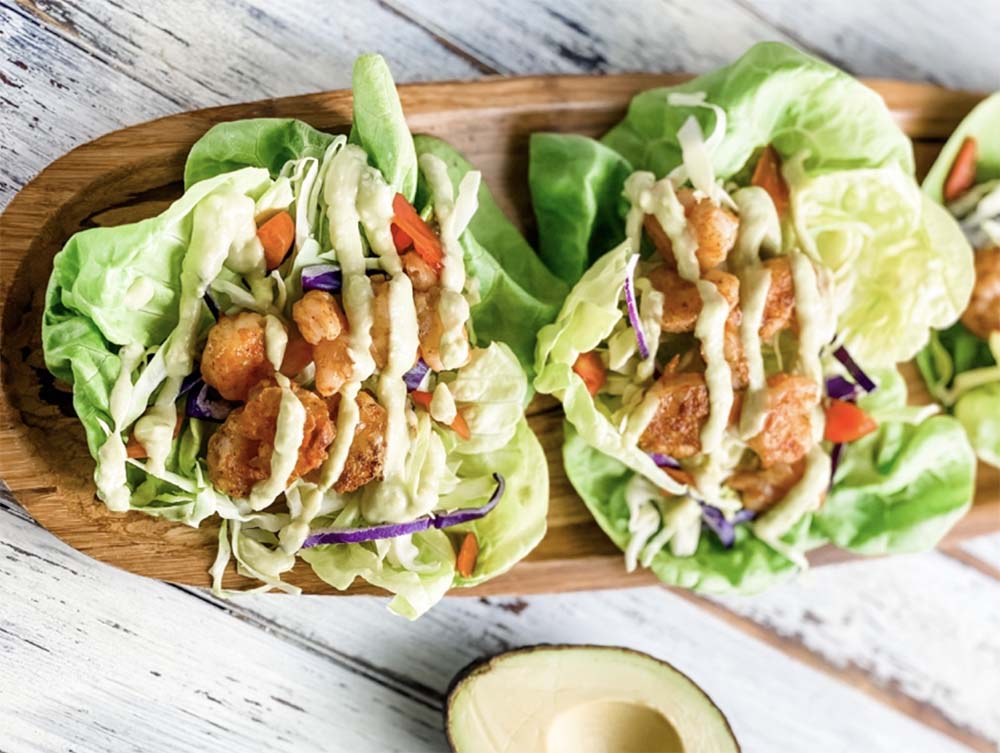 Here's a wonderful habit to make – enjoy tacos wrapped in lettuce rather than tortillas! It's just as quick and easy as throwing your taco filling in a traditional tortilla and it will help you along your quest to slimming down, toning up and growing your natural energy reserves!
Courtesy of RealHealthyRecipes.com
What you need
Servings: 6
2 pounds large shrimp, peeled and deveined
1 teaspoon smoked paprika​
1 teaspoon garlic powder​
½ teaspoon dried Italian seasoning
1 teaspoon cumin​
1 teaspoon red pepper flakes
1 teaspoon sea salt
1 tablespoon olive oil​
1 avocado, mashed
2 teaspoons lemon juice
2 tablespoons almond milk
1 head Butter Lettuce
¼ cup Green Cabbage, shredded
Instructions
1. Arrange the shrimp on skewers. Mix the seasonings in a small bowl and sprinkle over the shrimp.
2. Heat a grill pan over medium-high heat and add the olive oil. Add the skewers of shrimp and grill each side until pink and cooked through.
3. In a bowl, combine the mashed avocado, lemon juice, almond milk and a sprinkle of sea salt. Mix until smooth and creamy, adding additional almond milk as needed.
4. Assemble the tacos with a large butter lettuce leaf, a handful of shredded cabbage and 6 grilled shrimp. Drizzle each taco with the avocado sauce. Enjoy!
Nutrition
One serving equals: 212 calories, 8g fat, 508mg sodium, 6g carbohydrate, 3g fiber, 1g sugar and 29g protein
Motivate your friends, family and co-workers! Use the "refer a friend" link below to forward this newsletter and subscribe your friends.